Residential
Jardins
sur la Rive
Enjoy the breathtaking view of the water at Jardins sur la Rive.
12610 Rue Notre-Dame Est, Pointe-aux-Trembles, Montreal, Québec H1B 2Z1
View on a map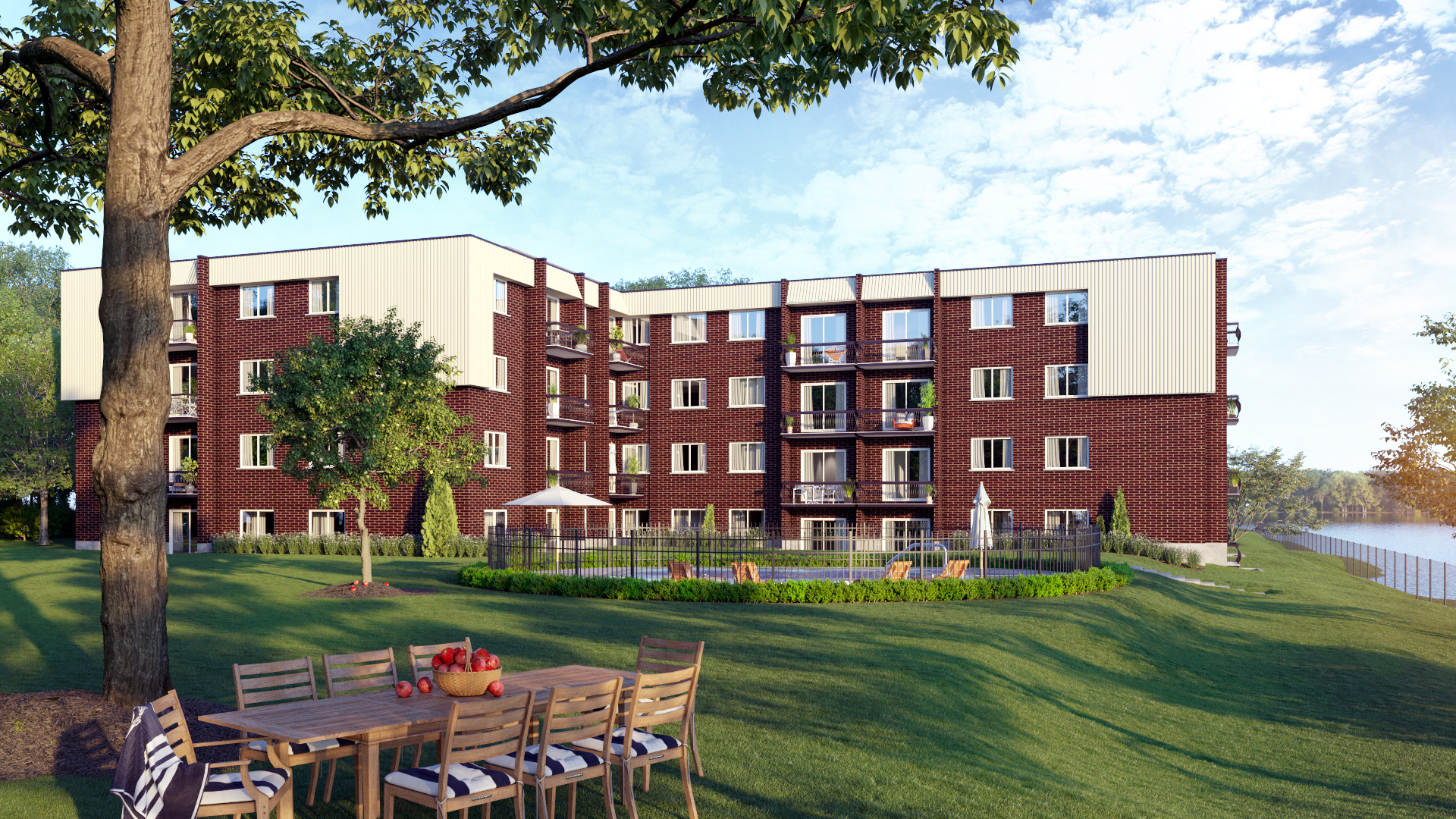 Les Jardins sur la Rive apartments, an opportunity not to be missed!
Move into one of these apartments for rent in Montreal and make it your next home! Enjoy life in these apartments right next to the river.
Contact us
Apartments for rent
APARTMENTS FOR RENT IN MONTREAL
Jardins sur la Rive apartments offer you beautiful and affordable apartments. Live in a quality building with resident janitors for added service!
The apartments are spacious, bright and very well maintained!
Amenities

Waterfront

Water tax

Outdoor in-ground pool

Neutered cat allowed

Resident janitors

Gas BBQ allowed on balcony
The neighbourhood
Located in Montreal, enjoy all the advantages of the big city, in a peaceful area overlooking the St. Lawrence. Let yourself be charmed by this neighbourhood near the marina, various parks, schools and all amenities.
Nearby
Schools
François-la-Bernade Elementary School
Daniel-Johnson High School
Parks
Neuville-sur-Vanne Park
Daniel-Johnson Park
Road access
Tricentennial Boulevard
Sherbrooke Road East
Businesses
CLSC le Cardinal
July Market
Recreation centers
Marina Montreal
Rodrigue Gilbert Arena
"Big thank you to Élie and the Team at Plan A. Very professional and efficient. They also have great apartment options for just about anybody. Thank you guys for all your help and support. Finding a new home is not always an easy task and you make it enjoyable. Highly recommend!!"
Arielle F.
"Je suis très satisfait de mon appartement. L'espace de vie y est agréable."
Robert
"Plan A est un endroit où il fait bon vivre. Des superbes unités et surtout bien situé à Laval. L'administration s'est dotée d'une nouvelle équipe de professionnels dévoués. Une gérance basée sur le respect, la loyauté et la tranquillité d'esprit des locataires. Ce sont des éléments importants pour l'accroissement et la rentabilité optimale. On ressent l'importance du bonheur de vos clients dans la qualité de vos services."
Martinez M.
"J'aime beaucoup l'intérieur de mon appartement, il est spacieux! Les concierges et responsables de l'immeuble sont très gentils!"
Francine